TENNESSEE VALLEY EARLY COLLEGE

READY TO APPLY FOR TVEC FOR 2019-2020?
Need more info? Click here for the parent packet.

Upcoming Dates:

March 6, 2019 - Completed TVEC applications are due in the CMS Counseling office.

March 18-20, 2019 - TVEC Interviews-CMS Counseling Office - TVEC students will receive an interview time before spring break.

March 28, 2019 - New Cohort letters (acceptance or denial) will be mailed home to applicants.
If the parent packet doesn't answer your questions, try our FAQs! This list will be updated as the questions are asked.

What is the cost associated with TVEC?
For the 2021 and 2022 cohorts, CCS is covering the cost of the tuition of one dual enrollment course (Freshmen Seminar). The remaining courses for most pathways in the freshman and sophomore years are dual credit, which there is not an associated cost to the student, with the exception of standard CHS fees.

Beginning their junior year, TVEC students are responsible for costs of tuition. Using the Middle College Grant and Cleveland State scholarships, the junior year average cost is $2132 and the senior year is approximately $2132. Right now TN Promise does not cover students who have not yet fully graduated from high school. Students may be able to take advantage of other scholarships and grants as the Early College Program develops. Please visit the Cleveland State Community College financial aid office for more information, specific to your situation.

Can TVEC students take AP courses or other electives?
Students may be able to work some AP courses into their schedule, but most pathways do not have room for much deviation. The same applies for electives, such as fine arts courses. Most dual enrollment and dual credit courses are honors-level rigor and credit.

Are there classes required outside of the standard high school courses?
Will the TVEC program interfere with athletics?
No, it will not. However, students in the junior and senior years need to be mindful of when they schedule college courses as to not compete with athletic events and practices.

Do TVEC courses transfer to other schools?
Courses labeled "dual enrollment" will transfer to schools that would otherwise accept credit from Cleveland State Community College. Courses labeled "dual credit" are only accepted at Cleveland State.

How does TVEC affect the high school experience?
In the freshman and sophomore years, the high school experience very similar to any other CHS student. In the junior and senior years, TVEC students will be off campus for classes and the day-to-day experience may be affected. Students who participate in extracurriculars will continue to do so, and after school events, like prom, are not affected by enrollment in TVEC.

Once a student applies to TVEC, is it 100% commitment?
No, students must go through the application process and will be chosen according to a combination of grades, TVAAS scores, and personal interviews. Students will then be selected through an electronic lottery. Students may choose to withdraw their applications through the 8th grade registration dates, in early May. Then, they may reevaluate their commitment at the end of each school year.

What are the requirements to stay in TVEC once selected?
Students must pass all dual enrollment and dual credit courses and maintain a 3.0 in those courses. In addition, students must remain in good behavioral standing with CHS and with CSCC.

Are there any other requirements involved for students to go to Cleveland State junior and senior year?
Yes, all students are required to take the ACT and meet Cleveland State ACT requirements in order to take Dual-Enrollment classes junior year. Freshman and sophomore students are encouraged to begin taking the ACT early so they can work to meet the required scores. Please visit Cleveland State's website to see ACT admissions requirements
Yes, students average one extra class per semester during the junior and senior years. Please see sample pathways for more information.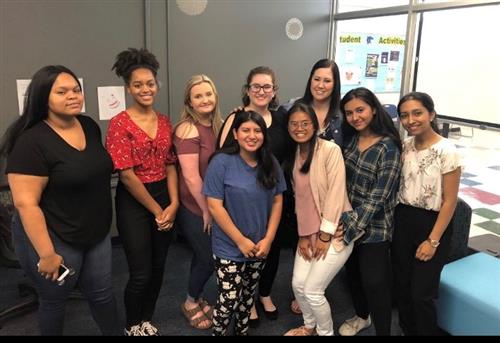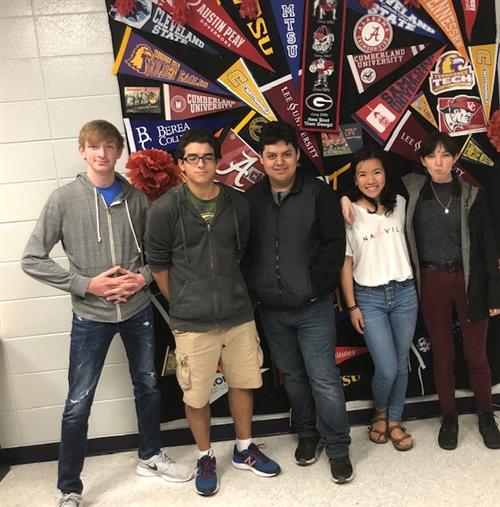 OCTOBER
Tennessee Valley Early College was invited to present at the 2016 LEAD conference on October 24th. Program coordinator and teacher Anita Adkins, along with Supervisor of Curriculum and Instruction Jeff Elliot, entertained questions from a room full of educators and supervisors, which included topics such as challenges and benefits of the program, startup expectations, and current financial needs and projections. A video was also presented, which included interviews with several TVEC students from the 2020 cohort, Dr. Dyer, teacher Brice Sharp, Cleveland State's Dr. Seymour, and Anita Adkins; promotional material was created by Cleveland High School student Rheagan Hall.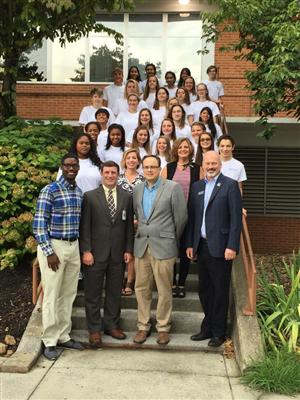 September
On Thursday, August 18th, Cleveland State Community College welcomed the first Tennessee Valley Early College cohort from Cleveland High School. This cohort consists of 29 students from the class of 2020. Students were greeted by Dr. Bill Seymour, CSCC President, Dr. Denise King, CSCC Vice President, and Dr. Robert Brandon, Dean of Humanities, along with our own Dr. Dyer, Mrs. O'Bryan, and Mrs. Adkins, program coordinator. Students were treated to a full campus tour, library activities, and lunch before participating in their first freshmen seminar. As students continue the TVEC program they will be offered the opportunity to graduate with a CHS degree while earning an associates degree from CSCC.
August
The Tennessee Valley Early College at Cleveland State Community College commences with Cleveland High School this school year. The inaugural 2020 cohort consists of over 30 students who are preparing for careers in engineering, medicine, business, criminal justice, and fine arts. In addition to being highly-motivated in academics, this cohort includes athletes, musicians, technology students, and creative writers.
TVEC students have the opportunity to graduate from Cleveland High School while simultaneously earning an associates degree from Cleveland State Community College. They can go straight to the workplace after graduation or transfer to a four-year university with up to 60 credit hours from CSCC.
For more information, visit the Cleveland State Community College Early College website or contact Becky Guthrie.