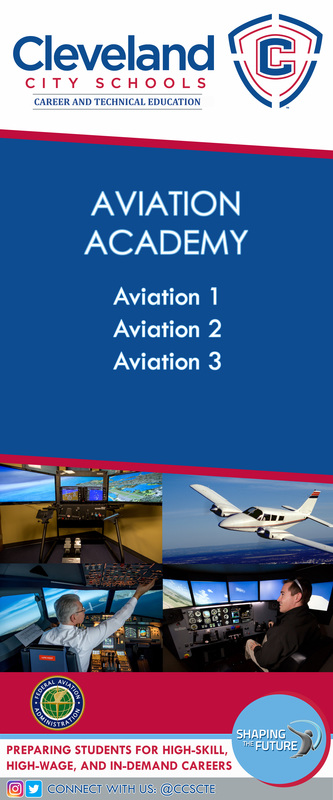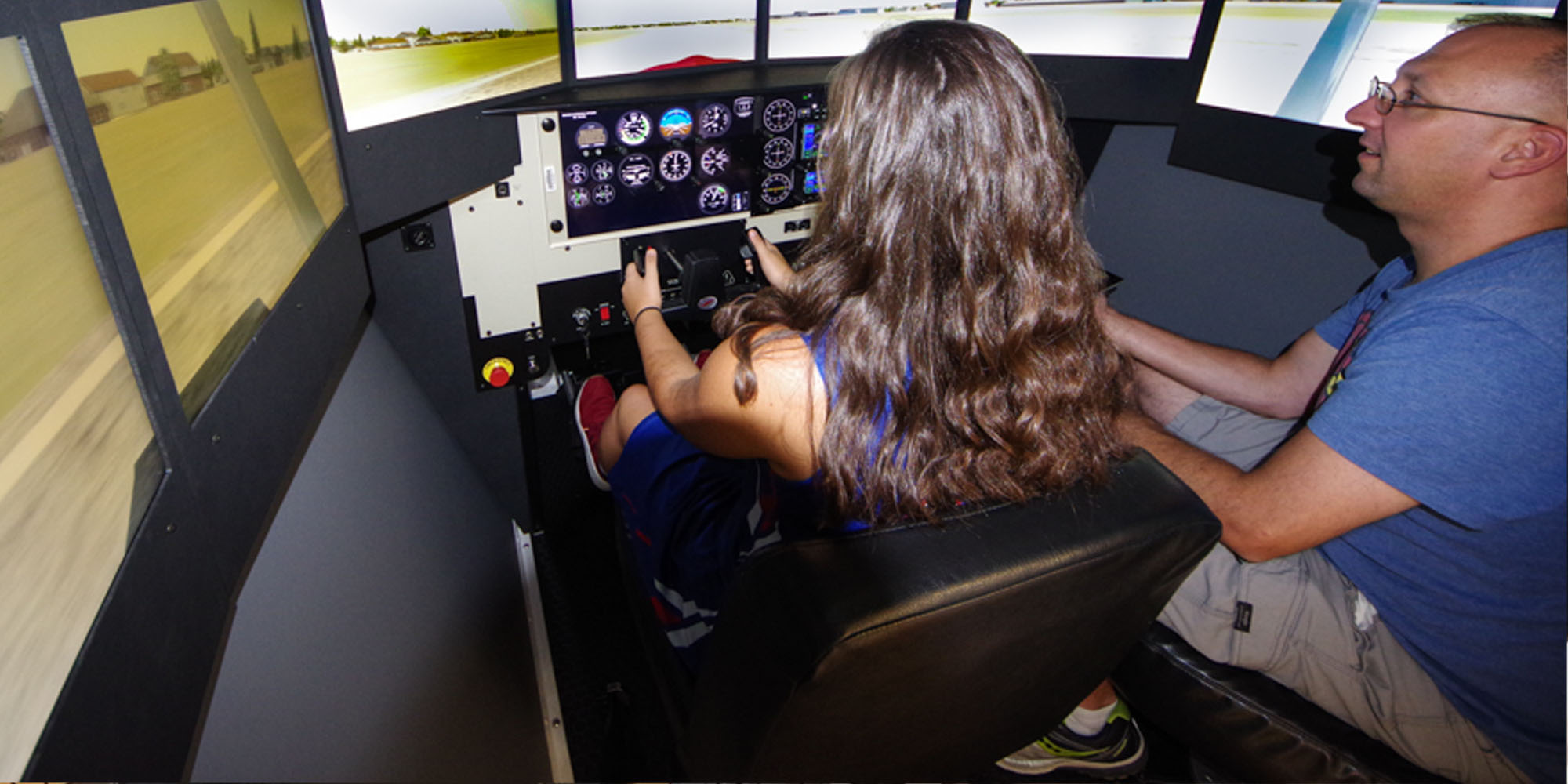 ABOUT THE PROGRAM OF STUDY
The Aviation Flight program of study prepares students to be successful in a range of aviation careers, such as pilots, aircraft engineers, air traffic control specialists, aircraft mechanics, or airline statisticians. Course content covers the knowledge and skills of all aspects of flight needed to pass the Federal Aviation Administration (FAA) Private Pilot written exam, including aircraft structures, flight environment, procedures and regulations, aerodynamics of flight, judgment training, navigation, and communications. Upon completion of this program of study, students will be prepared to take the FAA Private Pilot written exam and will be able to advance more quickly through the training hours typically required to solo in an aircraft after graduating. Dual credit or dual enrollment opportunities may be established with local postsecondary institutions.
AVIATION 1: INTRODUCTION TO AVIATION
Aviation 1 is a comprehensive foundational course for students interested in pursuing careers in aviation. This course covers the basic principles governing flight and the regulation of flight that every aviation professional must know regardless of his or her occupation as a pilot or an engineer, a salesperson or a specialist, a mechanic or a statistician. In addition to acquiring foundational knowledge of safety procedures and industry regulations, students will also gain essential understanding of aircraft structures, the flight environment on simulators, basic procedures, and navigation. Upon completion of this course, proficient students will be prepared for further study in advanced Aviation Flight and/or Aviation Maintenance courses.
AVIATION 2: PRINCIPLES OF FLIGHT DC
Aviation 2: Principles of Flight builds on the fundamental knowledge and skills learned in Introduction to Aerospace while teaching students the essential competencies needed for flight under normal conditions in the classroom and on flight simulators. Upon completion of this course, proficient students will be able to apply knowledge, skills, and procedures in a variety of simulated flight environments. Moreover, students who complete this course will have the opportunity to move on to advanced study in Aviation 3: Advanced Flight, where they will continue to prepare for the FAA Private Pilot written exam. This is the second course in the Aviation Flight program of study. FAA Pilot Written Exam is optional (exam cost of $150.00 to be paid by student). Dual Credit with MTSU.
AVIATION 3: ADVANCED FLIGHT
Aviation 3: Advanced Flight is the capstone course in Cleveland High Schools Aviation Flight program of study intended to prepare students for careers in aviation. While continuing to build upon the knowledge, skills, and competencies acquired in Aviation I (Introduction to Aerospace) and Aviation II (Principles of Flight), students in Aviation III will receive rigorous instruction in preparation to take the Federal Aviation Administration (FAA) Private Pilot written exam. Continued emphasis is placed on maintaining the safety of flight and developing sound judgment ("judgment training") in various conditions. In addition, students will develop a keen understanding of advanced aerodynamics and the physics of flight to aid in decision-making and technical adjustments while working under simulated abnormal procedures in our own full-motion FMX Flight Simulator. Dual Credit is available through MTSU. Students can also earn certification/license to operate a drone or sUAS by completing the part 107c test for an additional fee of $150.00 paid to the FAA testing site.
DUAL CREDIT OPPORTUNITIES
Dual Credit is available for Aviation 2: Principles of Flight with Middle Tennessee State University. Students that successfully complete Dual Credit courses will be awarded both college credit and high school graduation credit towards graduation requirements at both institutions.
Students will be provided the opportunity and the knowledge to be prepared for the FAA Private Pilot Written Exam and/or Part 107c Written Exam.
The air transportation workers occupation group is projected to grow by 32.5 percent in Tennessee between 2014 and 2022 with a total annual average of 165 openings. Employment of airline pilots, copilots, and flight engineer is expected to grow by 60.4% with 45 annual average openings projected per year. Growth is also anticipated for commercial pilots, yet this is a smaller occupation with 20 annual average openings expected. Additional opportunities for students in this program of study are available in air traffic control where 40 annual average openings are projected. The Memphis area was reported to have the highest concentration of employment of airline pilots, copilots, and flight engineers in May 2014 with 310 reported to be employed.
Aviation Flight Related Occupations with the Most Annual Average Openings in Tennessee (2014-2022)
| | | | | | | | | | |
| --- | --- | --- | --- | --- | --- | --- | --- | --- | --- |
| | First-Line Supervisors of Mechanics, Installers, and Repairers | First-Line Supervisors of Transportation and Material-Moving Machine and Vehicle Operators | Transportation, Storage, and Distribution Managers | Aircraft Mechanics and Service Technicians | Airline Pilots, Copilots, and Flight Engineers | | | | Aircraft Cargo Handling Supervisors |
| | | | | | | | | | |
| | | | | | | | | | |
AVIATION ADVISORY COMMITTEE
The Career and Technical Education Advisory Committees are made up of volunteers who agree to serve as advisors to one or more career and technical programs. Members include representatives from business, labor, community agencies, faculty, students and other members. The primary purpose of advisory committees is to provide direction and guidance for the specific career and technical area within the school to strengthen and enhance the success of CTE programs. By working closely with the business and labor communities, we continue to provide high quality workforce training and education to our students so they will succeed in today's job market.
The committees support and strengthen the partnership between business, labor, the community, and education. The committees make recommendations that will strengthen and help to expand the curriculum to improve the quality of program(s). Members provide valuable input in areas such as curriculum development, student recruitment and placement, staff development, equipment and software recommendations.