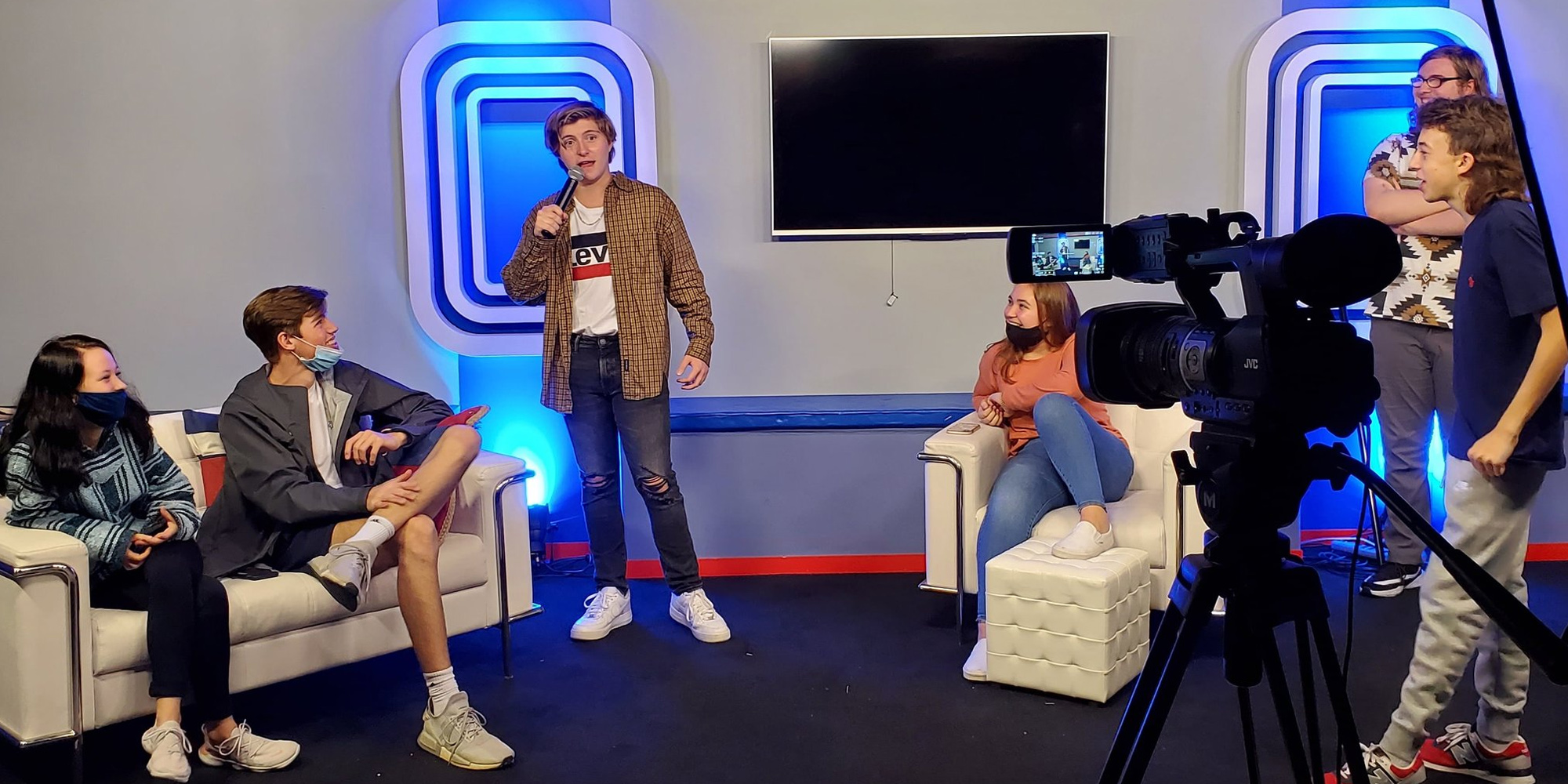 ABOUT THE PROGRAM OF STUDY
The A/V Production program of study is designed for students interested in a range of entertainment and news media fields. Course content centers on production of various television, cinema, radio, and other audio and video products, including commercials, music, news, interactive programming, and film. Students complete all phases of the production process including planning, coordinating, capturing, editing, and distributing productions. Topics include but are not limited to concept creation, scripting, interviewing, budgeting, scheduling, set design, engineering, field and studio production, and editing, and, as well operating production equipment such as cameras, lights, and audio equipment. Upon completion of this program of study, students will be prepared to seek employment or advanced training as an audio and video equipment technician, camera operator, film and video editor, multimedia artist and animator, broadcast technician, and many other careers in entertainment and media.

DIGITAL MEDIA PRODUCTIONS 1
This is a foundational course for students interested in digital video productions. The students will learn the elements involved in basic television production, script writing, camera operation, short film production, editing, and detailed film study. Course content provides a broad-based exposure to audio, video, journalism, and story creation within the media industry. Projects include music videos, short-films, and other projects.
DIGITAL MEDIA PRODUCTIONS 2
This course builds on the foundational skills learned in Digital Media Productions 1 to further develop students' abilities to direct, shoot, edit, and produce digital video content. Digital Media Productions 2 prepares students by merging the artistic concepts of traditional filmmaking with the technological tools that can be utilized in everything from independent news gathering and documentary filmmaking to commercial production and web video. Students will deepen their understanding of digital video by breaking down the logistics of production, including lighting and cinematography. Students will learn the aesthetics of scene composition, color theory, creative writing, and the way these concepts are integrated into the structure of their work. Can get Adobe Certification.
DIGITAL MEDIA PRODUCTIONS 3
Students in the Digital Media Production 3 class will produce live sports events and have opportunities to direct, work camera, and commentate a live stream. Working with advanced digital video equipment, students will learn every aspect of live television production including writing, directing, producing, editing, filming, reporting, and appearing as on-air talent. In addition to airing throughout the school, this show will be broadcast live, worldwide, on the Internet. The class is ideal for students considering careers in television. This course may be repeated up to 2 times. Can get Adobe Certification.
This course consists of students applying their classroom knowledge and techniques to real-world situations and environments. Students will participate in leadership and various other production roles while providing video services for Cleveland High School, specifically CHS Live. Students will develop new ideas, create content, design multi-camera productions, execute live broadcasts, setup and teardown large scale events, and reflect to improve future productions. Most work will occur outside of regular school time during athletic and other events. While CHS may provide transportation to some locations, students will need personal transportation. Be aware, long hours and outside broadcasts will need students to work outside the classroom and will be in-depth, exciting productions.
DUAL ENROLLMENT OPPORTUNITIES
Dual Enrollment is available for Digital Media Productions 3 with Middle Tennessee State University (MTSU). In a dual-enrolled class, students get credit for both high school and the college they are dual-enrolled with. This allows high school students to get college credit and a college transcript before they step foot on a college campus!
Adobe Certification
The Adobe Certification can be thought of as a first step in building a collection of credentials as a service professional in the digital media industry. The Adobe certification is industry recognized and valued and helps students secure an entry-level position.
The Tennessee Department of Labor and Workforce Development projects around 300 average annual openings for Media and Communications workers from 2014 to 2024 with a total of 8,450 employed for TN in 2024. Additionally, 300 positions are projected for Media and Communication Equipment Workers employed in the group in TN 195 openings for media and communication equipment workers are projected per year on average in Tennessee between 2014 and 2024. Nationally, job projections are similar with a 12 percent growth projected for media and communication equipment workers, however, it is not so bright nationally with a -3% percent decline projected for media and communication equipment workers and all others. The media and communications and equipment worker occupation groups include a variety of occupations. Outlooks are best for writers and authors, audio and video equipment technicians, and radio and television announcers. Even nationally, the audio and video equipment technician group is projected to grow by 12 percent with 2,610 annual average openings projected with a total of 79,400 positions in 2024.
MEDIA AND COMMUNICATIONS OCCUPATIONS WITH THE MOST ANNUAL AVERAGE OPENINGS IN TENNESSEE (2014-2022)
| | | | | | | | | | | | | |
| --- | --- | --- | --- | --- | --- | --- | --- | --- | --- | --- | --- | --- |
| | | Audio and Video Equipment Technicians | Radio and Television Announcers | | Reporters and Correspondents | | | Media and Communication Workers, All Other | Sound Engineering Technicians | Camera Operators, Television, Video, and Motion Picture | | |
| | | | | | | | | | | | | |
| | | | | | | | | | | | | |
DIGITAL MEDIA ADVISORY COMMITTEE
The Career and Technical Education Advisory Committees are made up of volunteers who agree to serve as advisors to one or more career and technical programs. Members include representatives from business, labor, community agencies, faculty, students and other members. The primary purpose of advisory committees is to provide direction and guidance for the specific career and technical area within the school to strengthen and enhance the success of CTE programs. By working closely with the business and labor communities, we continue to provide high quality workforce training and education to our students so they will succeed in today's job market.
The committees support and strengthen the partnership between business, labor, the community, and education. The committees make recommendations that will strengthen and help to expand the curriculum to improve the quality of program(s). Members provide valuable input in areas such as curriculum development, student recruitment and placement, staff development, equipment and software recommendations.