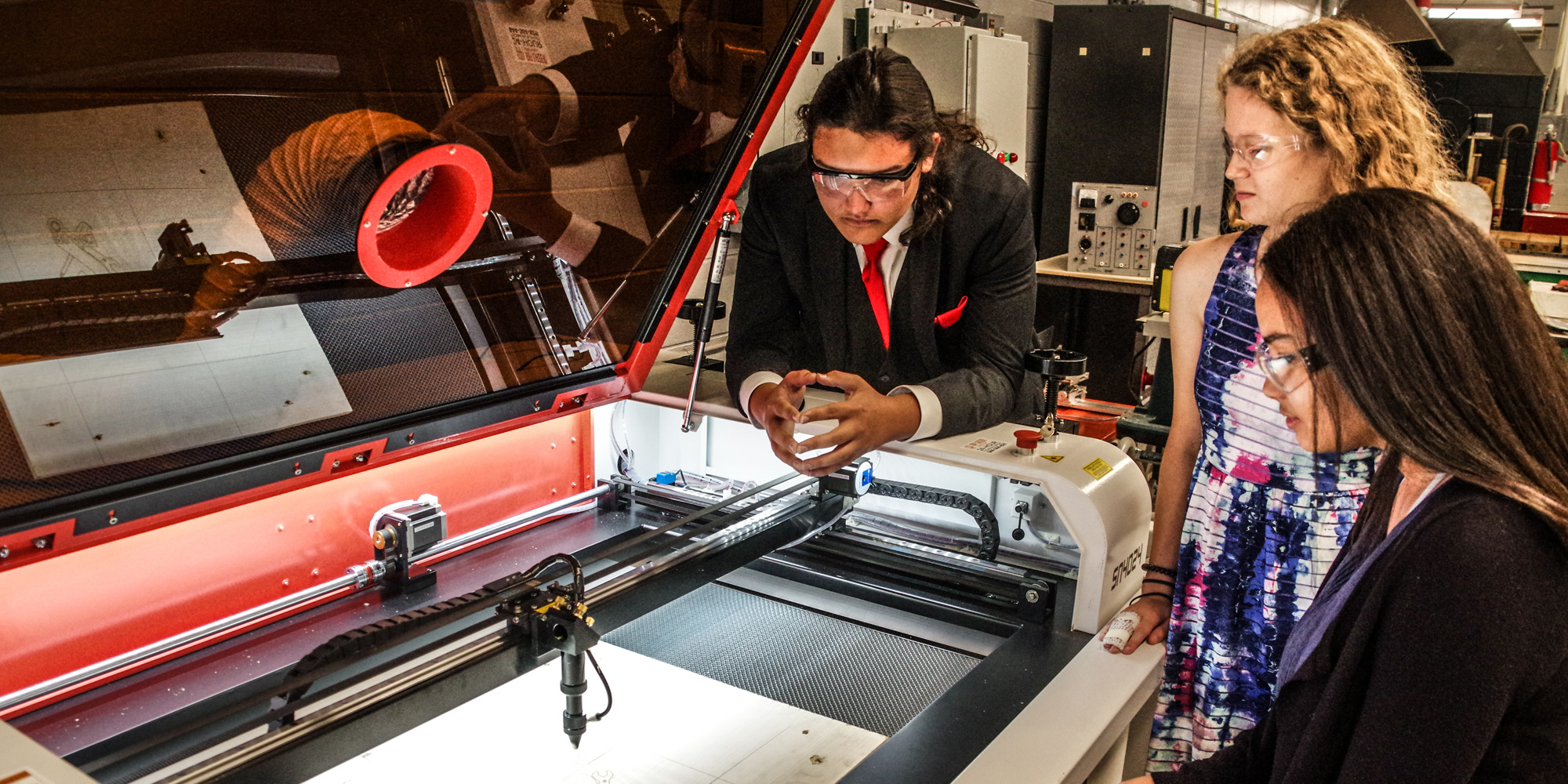 ABOUT THE PROGRAM OF STUDY
Advanced Manufacturing is a critical sector of Tennessee's economy. Compared to the national rate of 5.2 percent, job creation in Tennessee is soaring in manufacturing fields, accounting for $30.2 billion in manufactured goods exported every year and a nine percent overall increase over the last four years. After several consecutive years of strong job gains, the demand for skilled workers shows no sign of slowing. The Mechatronics program of study is designed for students interested in becoming a mechatronics technician, electrical technician, mechanical engineering technician, robotics technician, or mechatronics engineer. Course content focuses on the components of manufacturing systems, collection and analysis of quality data, electronics, mechanics, fluid power systems, computers and control systems, and technical documentation and troubleshooting.

Class is a hands-on foundational course where students are able to investigate emerging robotics and engineering fields with real world projects and personalized individual project paths. Student's will gain real skills and experience in industry-certified studies in Agriscience, Robotics, Mechatronics and Computer Science.
This class is a project-based learning experience for students who wish to further explore the dynamic range of engineering fields. Building on the content and critical thinking frameworks of Engineering 1, this course asks students to apply the scientific inquiry and engineering design processes to a course-long project selected by the instructor with the help of student interest and passion. Students will apply their skills in Agriscience, Mechatronics and Computer Science to address larger and more extensive challenges within their fields. Dual Credit with Cleveland State Community College.
This class is a fast-paced course where students will focus on team dynamics and relevant project work habits by applying their specialized skills to a variety of real world problems with a multi- disciplinary team of their peers who have become student experts in either Agriscience, Mechatronics and Computer Science. This course builds on the two previous engineering courses by applying scientific and engineering knowledge and skills to an extensive team project. Upon completion of this course, proficient students will be able to effectively use skills such as project management, team communication, leadership, and decision making. They will also be able to effectively transfer the teamwork skills from the classroom to a work setting. Dual Enrollment with Cleveland State Community College or TCAT (Athens).
Robotics Practicum is a capstone course intended to provide students with the opportunity to apply the skills and knowledge learned in previous Engineering Application courses within a professional, working environment. While continuing to add to their technical skillsets, students in this course assume increasing responsibility for overseeing manufacturing processes and managing complex projects. Specifically, proficient students work in teams to plan the production of a sophisticated product; develop troubleshooting and problem-solving mechanisms to ensure that projects run smoothly; analyze output and compile professional reports; and connect practicum activities to career and postsecondary opportunities. Dual Enrollment with Cleveland State Community College or TCAT (Athens).
DUAL ENROLLMENT AND DUAL CREDIT OPPORTUNITIES
Dual Credit is available for Robotics 1 and Robotics 2 with Cleveland State Community College. Dual Enrollment is available for Robotics 3 and Robotics 4 with Cleveland State Community College or Tennessee College of Applied Technologies Athens (TCAT). In a dual-enrolled class, students get credit for both high school and the college they are dual-enrolled with. This allows high school students to get college credit and a college transcript before they step foot on a college campus!
Fanuc Certification
Indicates an operator level of skills and knowledge. Students with this level have a basic understanding of robot operations and programming, material handling and its components, and introduction to Roboguide simulation software. These certification programs are focused on the core Robot Operator skills needed by entry level or incumbent workers.
OSHA 10
The OSHA 10 certification is designed to familiarize workers with OSHA standards as well as safety and health hazards common to the workplace. Students can earn their OSHA 10 Certification in Automotive 3 and Automotive 4.
Siemens
A Siemens Certified Mechatronic Systems Assistant will function as a well-grounded machine operator in a complex system, with responsibility for efficient operation of the equipment with minimal downtimes. Normally a Siemens Certified Mechatronic Systems Assistant would carry out their work at plant assembly sites, workshops or in connections with service operations which utilize complex mechatronic systems.
Job demand for mechatronics technicians and engineers is strong. Mechatronics, with its emphasis on ensuring machines and processes work well, offers many opportunities for career advancement in advanced manufacturing industries. Tennessee is home to a strong base of manufacturers representing many diverse industries, led by the state's automotive sector, which has become a regional and national powerhouse. The continual growth of manufacturing combines with the number of workers retiring ensures that mechatronics is a high demand occupation in Tennessee.

ROBOTICS ADVISORY COMMITTEE
The Career and Technical Education Advisory Committees are made up of volunteers who agree to serve as advisors to one or more career and technical programs. Members include representatives from business, labor, community agencies, faculty, students and other members. The primary purpose of advisory committees is to provide direction and guidance for the specific career and technical area within the school to strengthen and enhance the success of CTE programs. By working closely with the business and labor communities, we continue to provide high quality workforce training and education to our students so they will succeed in today's job market.
The committees support and strengthen the partnership between business, labor, the community, and education. The committees make recommendations that will strengthen and help to expand the curriculum to improve the quality of program(s). Members provide valuable input in areas such as curriculum development, student recruitment and placement, staff development, equipment and software recommendations.