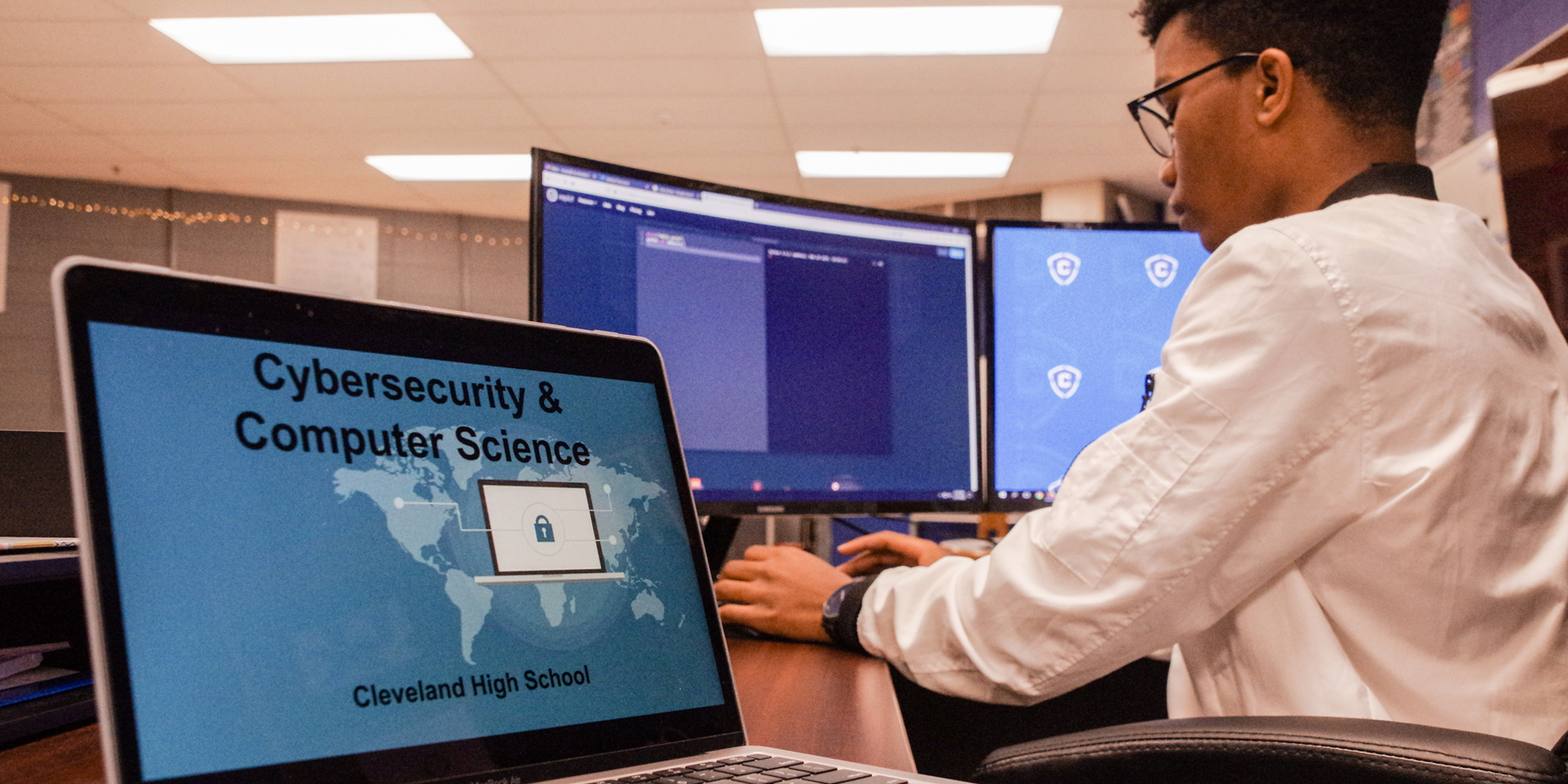 ABOUT THE PROGRAM OF STUDY
The cybersecurity program of study is designed for students interested in protecting computers, networks, programs and data from unintended or unauthorized access, change or destruction. Cybersecurity is either a stand-alone career or it can be used with other computer applications as a major aspect of broader computer science occupations. This program offers a sequence of courses that provides coherent and rigorous content aligned with challenging academic standards and relevant technical knowledge and skills needed to prepare for further education and cybersecurity related careers in the Information Technology career cluster; provides technical skill proficiency, and includes competency-based applied learning that contributes to the academic knowledge, higher order reasoning and problem-solving skills, work attitudes, general employability skills, technical skills, and occupation-specific skills, and knowledge of all aspects of cybersecurity. The content includes but is not limited to foundational knowledge and skills in computer and network security, security vulnerabilities, attack mechanisms and techniques, intrusion detection and prevention, cryptographic systems, system hardening, risk identification, incidence response, penetration testing, key management, access control, and recovery. Specialized courses focus on database security, planning and analysis, software, and web security.

COMPUTER SCIENCE FOUNDATIONS
A course intended to provide students with exposure to various Information Technology (IT) occupations and pathways such as Internet Protocol, Coding, and Cybersecurity. As a result, students will complete all core standards, as well as standards in two of four focus areas. Upon completion of this course, proficient students will be able to describe various IT occupations and professional organizations. Moreover, they will be able to demonstrate logical thought processes and discuss the social, legal, and ethical issues encountered in the IT profession. Depending on the focus area, proficient students will also demonstrate an understanding of electronics and basic digital theory; project management and teamwork; client relations; causes and prevention of Internet security breaches; and writing styles appropriate for web publication. Upon completion of the CSF course, students will be prepared to make an informed decision about which Information Technology program of study to pursue.
A course intended to teach students the basic concepts of cybersecurity. The course places an emphasis on security integration, application of cybersecurity practices and devices, ethics, and best practices management. The fundamental skills in this course cover both in house and external threats to network security and design, how to enforce network level security policies, and how to safeguard an organization's information. Upon completion of this course, proficient students will demonstrate an understanding of cybersecurity concepts, identify fundamental principles of networking systems, understand network infrastructure and network security, and be able to demonstrate how to implement various aspects of security within a networking system.
Interested in mobile applications (apps), coding, or game development and animation? Computer Science is a course intended to provide students with the opportunity to apply the skills and knowledge learned in previous engineering and robotics courses toward the completion of an in-depth project with fellow team members. Upon completion of this course, proficient students will be prepared for postsecondary study and/or career opportunities in programming and software development. Students are required to take the AP Exam.
Cybersecurity Dual Enrollment is a capstone course intended to provide students with the opportunity to earn college credit and to apply the skills and knowledge learned in previous Cybersecurity courses toward the completion of an in-depth project with fellow team members. Students who have progressed to this level in the program of study take on more responsibilities for producing independent work and managing processes involved in the planning, designing, refinement, and production of cybersecurity applications. Upon completion of this course, proficient students will be prepared for postsecondary study and career advancement in cybersecurity and will be equipped to market their finished product should they choose.
DUAL ENROLLMENT OPPORTUNITIES
Dual Enrollment is available for Cybersecurity I DE. In a dual-enrolled class, students get credit for both high school and the college they are dual-enrolled with. This allows high school students to get college credit and a college transcript before they step foot on a college campus!
CompTIA A+ Certification
CompTIA A+ is the industry standard for launching IT careers into today's digital world.
CompTIA Network
CompTIA Network+ helps develop a career in IT infrastructure covering troubleshooting, configuring, and managing networks.
Network outages, data compromised by hackers, computer viruses and other incidents affect our lives in ways that range from inconvenient to life-threatening. As the number of mobile users, digital applications and data networks increase, so do the opportunities for exploitation. Governments, military, corporations, financial institutions, hospitals and other businesses collect, process and store a great deal of confidential information on computers and transmit that data across networks to other computers. With the growing volume and sophistication of cyber attacks, ongoing attention is required to protect sensitive business and personal information, as well as safeguard national security. During a Senate hearing in March 2013, the nation's top intelligence officials warned that cyber attacks and digital spying are the top threat to national security, eclipsing terrorism.
According to the US News and World Report on education, cybersecurity is ranked #5 out of 11 hot college majors. Companies and government agencies are moving aggressively to protect their computer systems. Cyber-attacks have grown in frequency, and analysts will be needed to come up with innovative solutions to avert hackers from taking critical information or creating issues for computer networks. Between 2014 and 2016, the Pentagon is planning to add more than 4,000 experts at its Cyber Command. Specialists in cybersecurity can also expect to find openings in health care, energy and at security services firms.
The need for this pathway to be included in our Information Technology cluster is supported by the projected robust job growth both in Tennessee and nationally. The change of employment from 2014-2024 is expected to grow 18 percent nationally and 35 percent in Tennessee which is much faster than average.
TENNESSEE LONG TERM EMPLOYMENT PROJECTIONS FOR CYBERSECURITY-RELATED OCCUPATIONS

CYBERSECURITY ADVISORY COMMITTEE
The Career and Technical Education Advisory Committees are made up of volunteers who agree to serve as advisors to one or more career and technical programs. Members include representatives from business, labor, community agencies, faculty, students and other members. The primary purpose of advisory committees is to provide direction and guidance for the specific career and technical area within the school to strengthen and enhance the success of CTE programs. By working closely with the business and labor communities, we continue to provide high quality workforce training and education to our students so they will succeed in today's job market.
The committees support and strengthen the partnership between business, labor, the community, and education. The committees make recommendations that will strengthen and help to expand the curriculum to imImageprove the quality of program(s). Members provide valuable input in areas such as curriculum development, student recruitment and placement, staff development, equipment and software recommendations.