We are so excited to welcome Mr. Michael Ritchie to Cleveland City Schools!
Mr. Ritchie spent seven years in the welding industry before taking a job at Cleveland High School earlier this year.
He spent the majority of his high school career learning and becoming certified in welding.
"I knew in my freshman year that this was the industry I wanted to go into," Ritchie said.
It didn't take long for him to realize that he belonged in the classroom.
"Someone has to teach the next generation and get them out there," Ritchie said. "The industry is in dire need."
Mr. Ritchie said it's been exciting to see students improve their skills throughout the semester.
"They are starting to be able to pass some of these practice welding tests," Ritchie said. "They are showing up before school, after school, and during school to ask if they can get some more practice in. I think that's been the biggest moment for me - that they are excited about their improvements."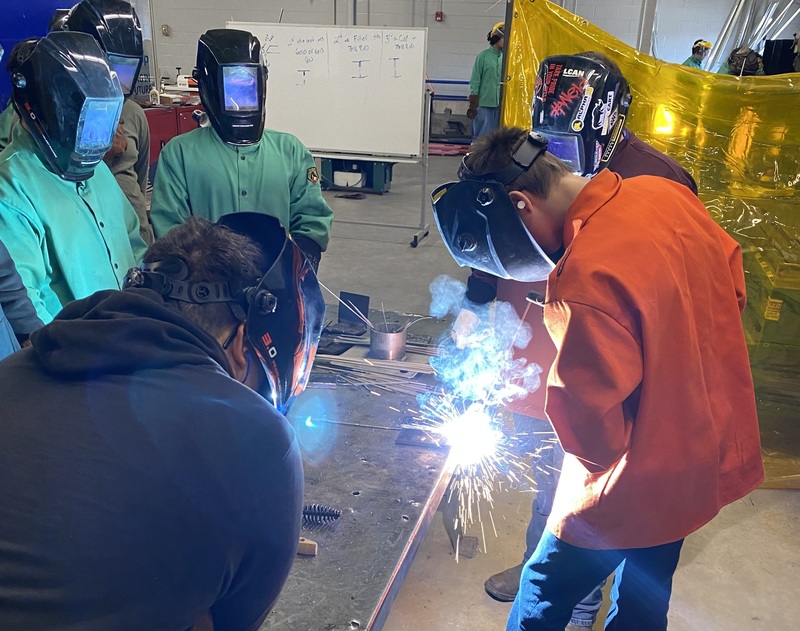 In the past six months, he has transformed the program.
"We are now part of the American Welding Society, which is a global organization that makes the standards for the welding industry," Ritchie said. "Every company in the world goes by their welding standards."
Mr. Ritchie said this will allow students to connect with business owners and workers in the welding industry. He wants to make sure these students have opportunities to succeed in this field after graduation.
When he's not in the classroom, you can find Mr. Ritchie hiking, camping, or working on projects with his friends. Mr. Ritchie is looking forward to marrying his fiance, Paige, who is a pre-school teacher in Hamilton County.
"These kids have been the highlight of my day since day one," Ritchie said. "I haven't I've left school with a bad attitude since I started here and that has a lot to do with the students as well as the teachers in the system and the administration."
Supervisor of Career and Technical Education (CTE) Renny Whittenbarger said Mr. Richie has created an atmosphere where all students are engaged, motivated, and excited to learn about welding career opportunities.
"In their first full year, the welding students have already created an American Welding Society (AWS) student chapter of 25 students. The AWS student chapter will offer students the opportunity to build relationships and career contacts, all while perfecting their welding skills," Whittenbarger said. "It is obvious Mr. Rithchie has a passion to share his welding talents with his students in order to offer students experience the same level of success as he has in welding. Cleveland City Schools is very fortunate to have Mr. Ritchie on staff to share his experiences."
We are so thankful for Mr. Ritchie's commitment to his students! We can't wait to see you continue to make a difference in the lives of your students!